To maximize eligibility for and distribution to the broadest spectrum of screening venues (competitions, festivals, broadcast, streaming, and social media), student films at Edinboro University will employ the following template of credits:

Opening Credits
Though you may/should show a title card before/as the film begins, please avoid opening credits.  The title should mirror the production values of the film.
Lower Thirds
Graphics identifying on-screen talent must appear within the "title safe area" as defined by overlays in Adobe Premiere.
End Credits
No end credit sequence may exceed 30 seconds.  Shorter is better.

List contributors as few times as possible.  Combine credits if necessary (i.e. "written and directed by") so that no person will be listed more than twice.


It is of paramount importance that contributor names be spelled correctly.  Nicknames should be avoided except in the rarest of cases.

Credit any content that you did not create.  Check sources carefully for licenses and attribution details. 

Credit sequences must conclude with the words "Produced by Digital Filmmakers at" followed by one of two EUP logos, white or black, chosen for maximum contrast to the credits' background.  Links to the logos are available below.

Indicate copyright only if the members of your group have consolidated ownership by signing work-for-hire agreements.

List scrolling credits in the following order – without static cards.  In the interest of time, multiple column scrolls are acceptable, even preferable.

Italicized words in the list below are intended to help you arrange information logically and should not be included in the actual credit crawl.

Key Creatives
Cast
Production
Director of Photography/Camera Operator
Production Design/Costume/Make-Up
Production Sound/Sound Recordist/Boom Operator
Post-Production
Editor
Non-original Materials
Thanks
(include EUP employees here only)
Produced by Digital Filmmakers at
Leader Specifications (adapted from the PBS Redbook TOS)

The recording must begin with 60 seconds of color bars and operating level tone on all audio channels.
The recording must continue with a 20 second visual slate in the style of the following template.  TRT = "total running time."  All text should appear, white on black, in Avenir Medium, all caps.  The production company is always "Edinboro University."  The date is the due date of the final project as listed in the syllabus.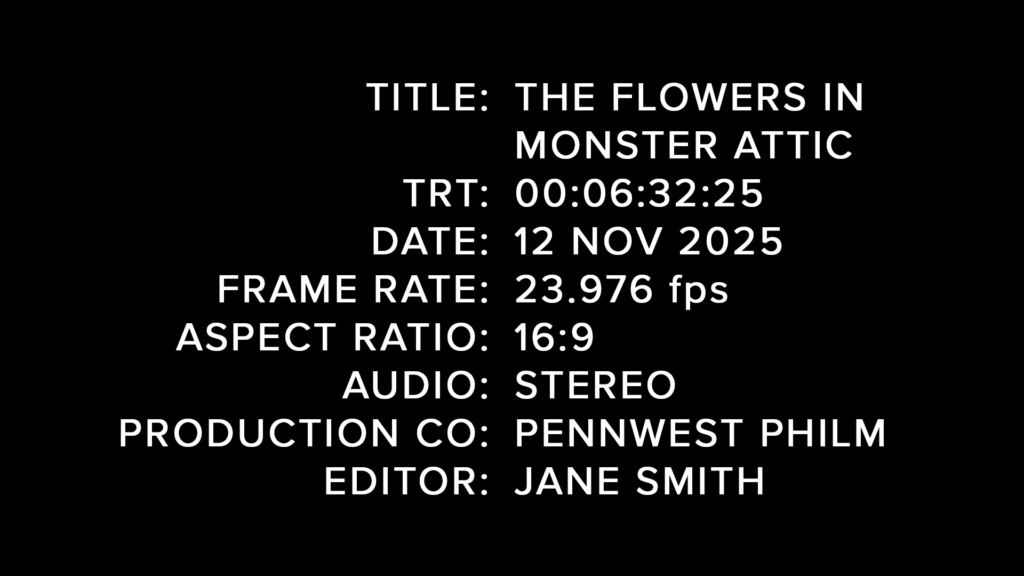 The recording must continue with a countdown clock keyed over the slate beginning precisely 10 seconds before the program. Each clock change will indicate the beginning of a second, coinciding with a single frame of 400 Hz audio tone and single frame of white circle for lip-sync test, followed by 29 frames of silence and absence of white circle.
The number "2" must be the last number to appear, with 1.8 seconds of black and 59 frames of silence before the beginning of the program.
The recording continues with the program per PBS Red Book content specifications.
After the program, the recording concludes with at least 30 seconds of black and silence.
Poster Billing Blocks

Ben Schott does an excellent job of explaining how and why names are arranged on a film posters.  Use his article in The New York Times Sunday Review as a template for your own.